A Look Behind the Scenes
The Search

The Research Process & Candidate Development
Major Components of a Private Executive Search: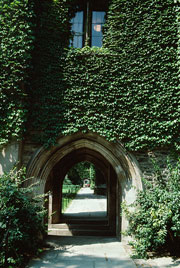 To develop candidates, in addition to using our file of people known to us from previous assignments and our broad referral network, we extensively research your industry, and contact the best people in it. Working closely with you, we develop a list of 100 or more target companies who would be the most likely employers for the people who would be best qualified for your position. We then identify these people and contact them directly. All these contacts are handled by the principals, rather than research associates.
Research
In this assignment, we researched companies that design and manufacture electronic systems used in military applications. We contacted 238 prospects, prescreened 47 in telephone interviews, and interviewed 11 candidates before presenting five finalists to the client for interviews. Below is a sampling of the research that was developed during this assignment:
Click on a company name for more details

Bath Iron Works
Litton Applied Technology
Boeing Helicopters
Lockheed Martin Air Traffic Management
Compact Amherst Systems
Newport News Shipbuilding & Drydock
DRS Technologies Inc
Raytheon Co./Equipment Division
General Dynamics Armament Systems
Sierra Technologies, Inc
Joseph Fortin
Phone: 207-443-3311
Director of BDG Program
700 Washington Street
Bath, ME 04530
7,300 employees; DD-21 Destroyer Program
DD651 Arleigh Burke Class Aegis Destroyers;
LDD-17 Amphibious Vehicles
Notes: "They told me that he is the most senior person on this program."
James Leverton
Phone: 408-365-4747
VP Business Development
PO Box 7012, 4747-T Hellyer Avenue
San Jose CA 95150
Defense Electronic Systems, Radar Warning Systems
Notes: Sue Drescher is his assistant.
"They said he was the only one in business development."

Frank Lake
Phone: 610-591-2864
Director of Business Development
PO Box 16858
Philadelphia, PA 19142
Notes: "They said Mondays are the best times to call; reports to the VP/Business Development."

Roger Boyd
Phone: 301-640-2535
Director Program Management
9211 Corporate Boulevard
Rockville MD 20850
Notes: "on vacation 7/25 to 8/6."

Robert Cockrello
Phone: 716-631-0610
VP Marketing
30 Wilson Road
Buffalo, NY 14221
Signal environment stimulators for testing EW systems
Notes: "also oversees program management."

James Kaltenschnee
Phone: 757-380-2000
Business Development Manager
4101 Washington Ave.
Newport News VA 23607
18,000 emp
Notes: "They said he reports to Division General Manager."

Christopher Tofallos
Phone: 973-898-1500
Director of Business Development
5-T Sylvan Way
Parsippany NJ 07054
Over 1000 employees
Manufacturer of Defense/Aerospace Electronics Products
Notes: "We have 4 div.–each has own Business Development Director."

William (Bill) S. Berry
Phone: 401-847-8000
Head of Mine Neutralization Systems
1847 West Main Road
Portsmouth RI 02671
2,700 emp; $1-billion sales
Sonar Equipment, Oceanographic Systems
Notes: "Reports to Dan Smith, VP/General Manager."

Russell Klein
VP Programs
128 Lakeside Drive
Burlington VT 05401 802-657-6000
Manufactures Gatlin Guns 700 employees
"frequently in Washington, DC."

Joe Tomasino
Phone: 716-631-6200
VP Program Management
485 Cayuga Road
Cheektowaga NY 14225
750 employees
Electronic Systems for Airborne & Ground Based Applications
Notes: "Reports to president – out until July 14."